Dear Friends, "Faster than a speeding bullet!" That's how I feel time is passing. What a year 2017 has been! I shared with you my diagnosis of breast cancer in my letter last year. The beginning of 2016 was a time of fear, challenge and perseverance. However, in November 2016, I felt well enough to help out at the bakery. My job was to do whatever the president (my daughter Mona), asked me to do. Mona readily admits that the only reason she is president is because she is the bossiest child. (I can certainly attest to that!) Feeling energized...
---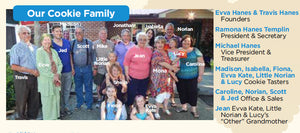 Dear Friends,I usually begin this letter by mentioning how grateful I am for my family, friends and good health. This year is no exception, however, I have acquired a deeper appreciation for "good health". In November 2015, at the age of 83, I was diagnosed with breast cancer. My goodness, those are two very scary words! So 2016 has seen a challenging battle. Often, at my age, chemotherapy is not considered, but because of my overall good health, it was an option that I took. All my fellow warriors out there have my respect because the "cure" is as much...
---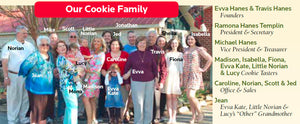 Dear Friends,I hope you are enjoying the year 2015. As I mark my 83rd year on this grand earth, every year seems to go faster. Travis and I are thankful for our good health, and we keep very busy. I garden, read and cook. Travis continues to mow all the family yards and tool around on his tractor. He has become quite the craftsman, carving unique "walking sticks." He calls his little studio "Whittler on the Roof." The fact that his studio is neither on the roof nor even located in the barn (pictured), did not deter him from putting...
---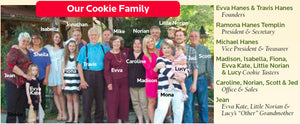 9/1/2014Dear Friends,We hope this past year has been a happy and healthy one for you and yours. It has been an exciting one for our family. Not only are Travis and I a year older, we celebrated our 62nd wedding anniversary! I think keeping busy keeps you young. Yes, at 82, we have a few aches and pains, but we try to keep going. (I am afraid if I slow down, I might not be able to speed back up!) We both still enjoy working in our flower and vegetable gardens. We still grow and "put up" most of the...
---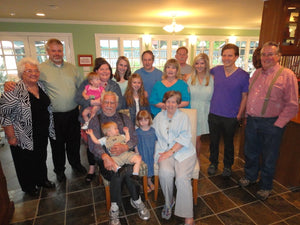 Dear Friends,Another year! This year Travis and I celebrated our 81st birthdays and our 61st wedding anniversary. Every day is a blessing, and we are so grateful for our continued good health. Except for a few aches and pains, I feel much the same as I did when I was younger. The only thing I can't comprehend is how my oldest child, Ramona, can be 60 years old! That just does not seem possible. Ramona agrees with me. She says the only time she realizes her age (or notices her weight) is when she sees a photograph. Therefore, Ramona has...