Dear Friends, It is the year 2022 and I am 90 years old! Oh my goodness! How did that happen? I have seen so many changes. Can you imagine growing up with no indoor plumbing? No air conditioning? No telephone? I mentioned in last year's letter that I am in the process of writing a book about my life. I have kept a diary for over 65 years, so I had a lot of information to use for inspiration. Daughter Mona was going to be my editor, but when the book got to be over 500 pages, she found it...
---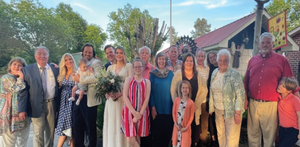 Dear Friends, What a year!I recall thinking back in early 2020, "Thank goodness this Covid thing is happening now — not during our busy holiday season." However, we all know how that turned out! It certainly was a challenging year. Like so many other businesses, the only thing we knew to do was "improvise" and simply take it one day at a time. Fortunately, we were able to keep working and never had to lay off any employees. To keep our employees safe, we reorganized our baking and break room areas to accommodate social distancing requirements. We reconfigured our sales...
---

Hello, Friends—both old and new. I hope this past year for you has been one full of joy and thanksgiving. For myself, the previous 12 months have blessed me with an even greater understanding of the importance of family, friendship, and fellowship. The Problem Was All in My HeadWhen you get to be 87 years old, you're not surprised by the development of a new physical ailment. You either find treatment for it or learn to live with it (or, let's be honest, a bit of both).Emotional or mental ailments, on the other hand, can really catch you off guard....
---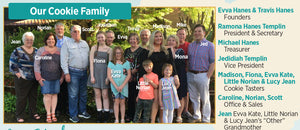 Well hello my friends. It has been a year of many exciting changes. Grandson Jedidiah joined us in the business last year and he has been very busy updating some areas of our business that needed a bit of "sprucing up." Jed's mother (Ramona) is so grateful that someone else is now in charge of all the technical "stuff." (Perhaps you can tell by her terminology (stuff) that we all are a bit relieved that Jed has taken over those duties.) Jed is also responsible for the design of the new shipping box we are using for our 14 oz....
---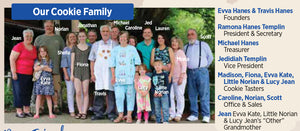 Dear friends,            Another year and another blessed 365 days of life. Travis and I celebrated our 66th year of marriage. I am 86 years old. (Not sure how that is possible!) But that's my age and I am happy to celebrate it! After my diagnosis of cancer at 84, and surviving chemo and radiation, every day feels precious. Yes, sometimes I have to "push" myself and make an effort to remain active- but I think that is how you remain young. Never stop "doing and learning." I remain "cancer free" but for those of you who walk this path with me,...